Corporate Gifting Made Easy - Order Your Holiday Gifts Today!
Simplify the gifting process with our convenient "Ship to Multiple Addresses" feature. You can send different pies to various recipients & choose a future delivery date all in a single checkout. Price discounts on 10+ pies.
Fresh Baked Pies Delivered to Your Doorstep
Indulge in the exquisite flavors of our pies without leave your home! At House of Pies Restaurant & Bakery, you can now order some of your favorite gourmet pies and have them delivered straight to your doorstep. Choose from our wide range of fresh 9" whole fruit pies and pecan pies, mini pies, and corporate gifts - all crafted with love and shipped ready to serve. Our online store is your destination for sweet treats and thoughtful gifts!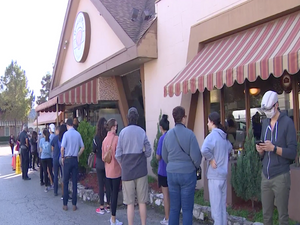 Our Story: A Houston Landmark Since 1967
For over 50 years, House of Pies has been the go-to spot for locals and tourists to indulge in some of the best pies in town. We have become famous because thousands annually have made a family tradition of purchasing these mouth-watering pies for the holidays. We are proud to be part of numerous occasions and celebrations and are excited to continue the House of Pies tradition for years to come for families all over the country!
It's such a pleasure working with you and the Team.  My clients have thanked me for the delicious pies.  We appreciate greatly all your efforts and extraordinary customer service.
Vanessa
Your pies were a hit. I have always baked my own pies, for the last 55 yrs. My family look forward to them every holiday. Your pies were such a blessing this year. I thank you kindly, for your lovely and generous box of pies. They were packed beautifully and tasted wonderful.
"Completely fantastic!!
If you like pie, you will absolutely love this place. If you don't like pie, this place will change your mind."
"This place never disappoints. We have been coming here for years and whenever we have family visit we make sure we bring them to enjoy this tasteful experience. If pie is what you are looking for, this is the place."
"They're not kidding when they say "slice made in heaven""