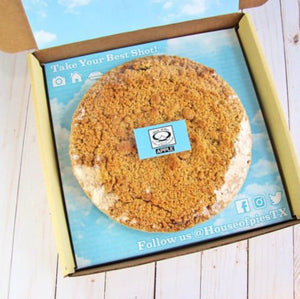 Corporate Gifting Made Easy
At House of Pies, we understand the importance of spreading joy and appreciation in a truly delicious way. Our famous pies make the perfect corporate gifts, whether you're expressing gratitude to clients, recognizing your hardworking employees, or simply treating your business partners to something sweet.
Why Choose Us for Corporate Gifting?
Ship to Multiple Addresses
Simplify the gifting process with our convenient "Ship to Multiple Addresses" feature. You can send different pies to various recipients all in a single checkout, making the process seamless and efficient.
Customization Options
Personalize your corporate gifts by selecting the flavors that resonate with your recipients.
Elegant Packaging
Our pies are elegantly packaged to create a lasting impression, reflecting the value you place on your relationships.
Wide Variety of Pies
From classic fruit pies to rich and decadent pecan pies, our selection offers something for every palate.
Spread warmth and delight with the gift of our irresistible pies. Start your corporate gifting journey today and show your appreciation in the sweetest way possible!
How It Works
Choose Your Pies
Browse our selection and add the pies you'd like to send to your cart
Select Recipients
During the checkout process, you'll have the option to provide multiple shipping addresses. Simply input the details of each recipient and assign the desired pies.
Personalized Messages
Add a personal touch by including individualized messages with each gift.
Effortless Checkout
Complete your purchase in one easy step, knowing that each pie will arrive at its intended destination.
Contact Us
Have questions or need assistance? Our team is here to help. Reach out to our dedicated corporate gifting specialists at support@houseofpiescompanystore.com